LD Staff Writer
Your best friend from 3rd grade (who you haven't physically spoken to since she moved in 8th grade) just took a quiz to figure out what ice cream combination best describes the relationship with her cat….
This immediately piques your interest. You have to take this quiz because you aren't sure if you and your tabby cat are more vanilla/chocolate or strawberry/salted caramel pretzel…. You don't know how they determine these things… But you're clicking through before you realize it.
…Then you arrive at a page to start the quiz, but only if you give permission for some personal information.
You might hesitate for a moment… Then think: "as long as they aren't posting on your Facebook timeline, why not?! Facebook would never give out information to the wrong people!"
You click the button and dash off to your ice cream cat relationship quiz – with barely a second thought of what you just authorized.
It's the same with applications like Spotify or LinkedIn where, instead of creating your own account, you use your Facebook login information for other apps. Sure, it's faster than creating an account… And you don't have to remember another password… But think about it for a moment. You just authorized a 3rd party to access your personal information. Do you really know where that information went? Or to whom? Or WHY?
This is how the "breach" with Facebook and Cambridge Analytica happened. Haven't heard about this yet? Check out this article, or this one, or this one.
Now… If you are anything like me, you are NOT deleting your Facebook. It is a great tool to connect with family and friends, and it is just important for your business and clients. It's a behemoth that isn't going anywhere…
But if you choose to continue using Facebook, there are steps you can take to improve your security (if you want to delete your account entirely, feel free to skip ahead).
• STOP taking Facebook quizzes when you have no idea where they're coming from. If you really need to take a quiz about your relationship with your cat, go to Buzzfeed or a site you know and trust.
• STOP using Facebook Login – the app that allows you to use FB to log in to other platforms and sites. Here are some directions on how to disconnect your Facebook page with other websites:
TLDR: Go to the Settings page on each website and find the option to disconnect from Facebook.
1. Manually change your settings so apps do not have the same access (here's a video from USA Today about how to delete unwanted Apps!).
• Go to Settings:
• Go to Apps:
• Under App Settings, the first section is "Logged in with Facebook." Just like it says, these are ALL the apps that you have authorized.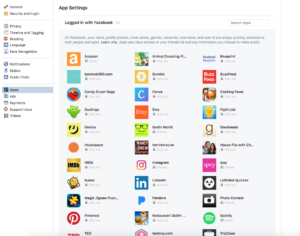 • Hover over an app and you will see the pencil icon come up. Click the pencil to "edit settings." In the settings, you will see the info you gave and what the app can do. It also has a link to "learn more."
Under that heading, there is a section called "Remove Info Collected by the App."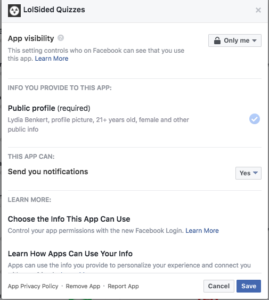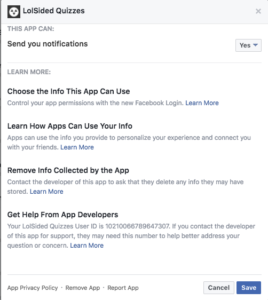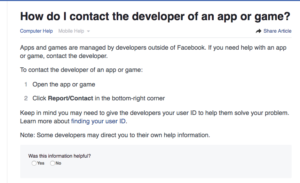 It will bring you to this.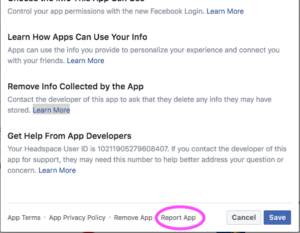 • Go back to the previous page and click "Report App" – since I have yet to see a "Contact" button.
• Otherwise, go back to the "Logged in with Facebook" page and hover over the app you would like to remove. Click the X to delete the app. They will still have any data they received, but at least you aren't connected by Facebook anymore!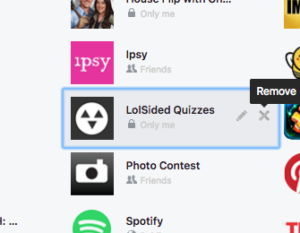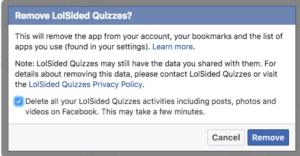 2. Change the options to control the types of information your friends can access when using their apps.
• Again go to Settings, then Apps. Scroll down to the bottom of the page and you will see, "Apps Others Use." Click on "Edit."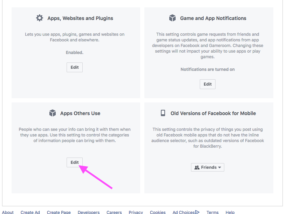 • Uncheck the boxes you wouldn't like others to access when using their apps.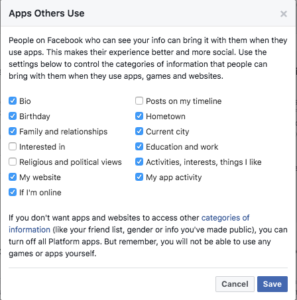 3. You can also turn off ALL Platform apps. You will not be able to use any games or apps, but your info will be safer!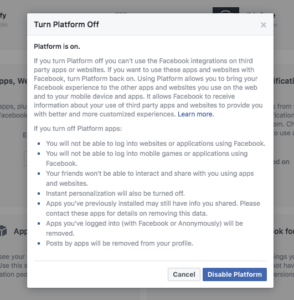 These options will help with your security, but the only true form of protection is to just delete your Facebook. If you still want to delete, here's how:
• If you want to keep all of your photos and other data from your Facebook page, you can download the data. To do this, go to our trusty "Settings" button.
Below your "General Account Settings," find the link that says, "Download a copy of your Facebook data." You will then be directed to another page. On this page, click "Start My Archive" and Facebook will email you a downloadable file.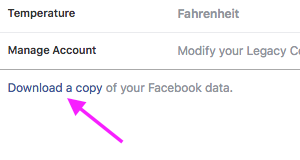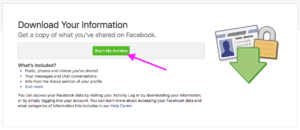 • Once you download the file, it's time to delete your Facebook! To permanently delete your account, go to this page and click "delete my account."
Just remember, it takes 14 days for Facebook to process this request. They will ask you many times if you're sure! If you log back in, your Facebook page will be reactivated.
• If you are still wary about deleting entirely, you can also just deactivate your account here. Deactivating will make your profile disappear, but the minute you log back in, your account will be reactivated.
The best part about deactivating vs. deleting? You can still use Facebook Messenger!
Regardless of whether or not you keep your account, be aware of where your personal information is going – and who can receive and access it. The digital world is full of these kinds of pitfalls, but just being more cautious is a huge step in the right direction. We can't prevent everything that happens to us online, but taking steps to make it harder for someone to access your information is never a bad idea!
Want to learn more?