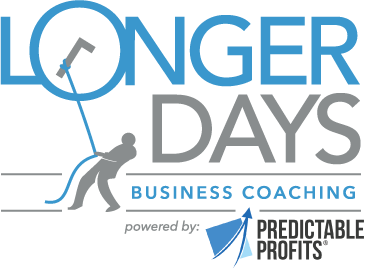 During my 18 years (and counting) as a business owner and entrepreneur, including as owner of LongerDays, I've been repeatedly reminded that your own knowledge, experience, and drive can only take you so far.
Achieving consistent and reliable growth requires a clear plan AND outside guidance from people who have achieved the goals you want to reach.
Business coaching has proven so valuable for our company, we want to share the resource with you.
When evaluating business coaches, we sought out someone with the know-how to help us overcome our most pressing challenges, including:
How do we create consistency in leads and revenue?
How can we double our client base in the next 12 months?
Where do we have overlooked revenue opportunities?
What activities should we do more of, and which ones should we stop?
Our Predictable Profits coach nailed these topics and went well beyond.
The business coaching process has been so beneficial for us, I believe our clients should have the same advantage.
So, here's what we did:
For any business that signs up or upgrades to our 24- or 32-hour plan, LongerDays will buy you FOUR business coaching sessions.
Alternatively, you can purchase them yourself at $1,500 directly from Predictable Profits.
(While our experience is compelling, you'll also want to see these business coaching testimonials here.)
If you are already a LongerDays client, talk with your Team Lead about upgrading your account to receive the business coaching package.
If you're new to LongerDays, simply sign up at the 24-hour plan, and you'll automatically receive the 4 business coaching sessions.
Jason Pliml
Owner – LongerDays