LD Staff Writer
A Brainstorming Guide
The most cost effective way to utilize our service – the single greatest way for us to free up your time – is to identify and delegate ongoing work. If there is a secret to successfully working with a virtual assistant, this is it.
Many of our clients sign up for our service with the intention of sending us a wide variety of one-time tasks. While this kind of work certainly helps our clients, it also takes time out of their day to "feed" us work, in addition to taking action on finished work we provide. This makes the client busier than ever… Largely the opposite of what they want out of a virtual assistant!
When you delegate ongoing work, you only have to train us once – and the task is taken off your plate for good.
Choosing what to delegate is possibly the most important variable in achieving a cost-effective and time-saving solution. Spend the time upfront to pinpoint the best uses for your assistant… They may not be the tasks you initially planned to delegate.
The following four brainstorming approaches may help you identify different tasks. Try to keep going on each approach, even after you feel like you've made a long list. You might be surprised how much work your virtual assistant can complete, so it's nice to have some "filler" tasks.
Once your list is complete, look for ongoing tasks – those are the ones to delegate first… Just 30 minutes a day adds up to over three weeks in a year. That's almost a month of your busy life back under you control!
Technique 1: Beginning at The End
Consider the ultimate outcome you want from working with your virtual assistant. For example, do you want to:
Feel less stressed?
Have more free time?
Work on your business, instead of in it?
Get the things done that you have been procrastinating?
Feel more organized and "on top" of your work.
You're probably thinking "All of the above would be great!"
But… If you spend some time narrowing down exactly what end result you're looking for, it will help clarify the steps you need to take to get there.
Once you've decided on this end result, write it on a sheet of paper and start listing what tasks are preventing you from having it.
For instance, if your goal is to feel less stressed, list all of the things that are contributing to your stress:
"Not knowing whether clients will show up for appointments"
"Having to send out my monthly newsletter"
"Putting off planning a trip to visit my parents"
etc.
After you have compiled this list of stress-inducing tasks, think about how your assistant can help. For instance:
"Not knowing whether clients will show up for appointments"
– Have my assistant call clients the day before to remind them of appointments
– If a client still does not show up, have my assistant call them to reschedule
"Having to send out my monthly newsletter"
– Have my assistant research potential articles ideas
– Have my assistant format a professional-looking template design
– Have my assistant create the final email to go out for my approval
– Have my assistant look into the best option for sending out a monthly newsletter
"Putting off planning a trip to visit my parents."
– Have my assistant look into good rates on hotels at X and Y city
– Have my assistant schedule a tune up and oil change for our van
– Have my assistant find the best places to eat and activities to do in Z city where my parents live.
By starting at the end and working backward, you are sure to find ways for us to help get you where you want to be. This may be the most effective method of brainstorming tasks, and ensures that specific, needle-moving goals are achieved.
Technique 2: Deciding What's Important
Steven Covey, the author of "The 7 Habits of Highly Effective People," breaks down tasks, to-dos, and projects into the following matrix: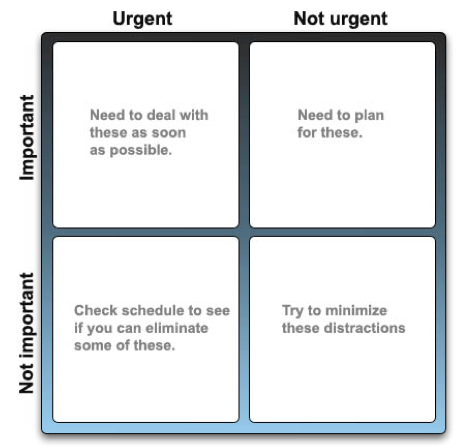 He says that we spend most of our time dealing with tasks that fall in the "Urgent/Important" category –  as they give us a sense that we need to deal with them before we can begin working on anything else.
Unfortunately, most of us spend so much time in this category, we don't have any time left for the "Not Urgent/Important" category.
In reality, it's often the "Not Urgent/Important" category tasks that could produce positive change in our lives, and help us get to where we ultimately want to be. Tasks that fall into this category are things like:
– Recognizing opportunities
– Planning for the future
– Strategizing
– Working toward goals
– Spending time with family and friends
Thinking about the "Not Urgent/Important" activities are in your life. Once you've identified them, repeat the process from before – think about how your assistant could help!
Alternatively, you could think of ways for your assistant to deal with tasks that fall in other categories, so you have more time to focus on urgent, not important tasks.
Technique 3: Using Triggers
Look over the following list of trigger words and terms. Consider tasks that may relate to each one. As tasks come to mind, write them down.
Professional
Projects started, not completed
Projects that need to be started
Commitments/promises to others

Boss/partners
Colleagues
Subordinates
Other people in organization
"Outside" people

Customers
Other organizations
Professionals

Initiate or respond to:

Voicemail
Email
Faxes
Letters
Memos

Other writing to finish/submit

Reports
Evaluations/reviews
Proposals
Articles
Promotional materials
Manuals/instructions
Rewrites and edits

Meetings that need to be set/requested
Who needs to know about what decisions?
Significant read/review
Financial

Cash flow
Statistics
Budgets
Forecasts/projections
P&L statements
Balance sheet
Credit line

Planning/organizing

Formal planning (goals, targets, objectives)
Current projects (next stages)
Upcoming projects
Business/marketing plans
Organizational initiatives
Upcoming events
Meetings
Presentations
Organizational structuring
Changes in facilities
Installation of new systems/equipment
Travel

Banks

Receivables
Payables
Petty cash

Administration

Legal issues
Insurance
Personnel
Policies/procedures

Customers
Marketing
Promotion
Sales
Systems

Computers
Office equipment
Other equipment
Utilities
Filing
Storage

Supplies
Office/site

Office organization
Furniture
Decorations

Waiting for…

Information
Delegated tasks/projects
Completions critical to projects
Replies to:

Letters
Memos
Proposals
Requisitions
Reimbursements
Petty cash
Insurance
Ordered items
Items being repaired
Tickets
Decisions of others

Professional development

Training/seminars
Things to learn
Things to look up
Skills to practice/learn
Tape/video training
Resumes

Outside education
Research
Professional wardrobe
Personal
Projects started, not completed
Projects that need to be started
Commitments/promises to others

Spouse
Children
Family
Friends
Professionals
Borrowed items

Projects: other organizations
Communications to make/get

Family
Friends
Professional
Initiate or respond to:

Upcoming events

Special occasions
Birthdays
Anniversaries
Weddings
Graduations
Holidays
Travel
Weekend trips
Vacations
Social events
Cultural events
Sporting events

Research

Places to go
People to meet/invite
Local attractions

Administration

Financial

Bills
Banks
Investments
Loans
Taxes

Insurance
Legal affairs
Filing

Waiting for…

Mail order
Repair
Reimbursements
Loaned items
Medical data
RSVPs

Home/household

Landlords
Property ownership

Legal
Real estate
Zoning
Taxes
Builders/contractors

Heating/air-conditioning
Plumbing
Electricity
Roofing
Landscape
Driveway
Walls/floors/ceilings
Decoration
Furniture
Utilities
Appliances
Light bulbs/wiring
Kitchen things
Washer/dryer/vacuum
Areas to organize/clean
TV
VCR/DVD
Music/CDs/tapes
Cameras/film
Phones
Answering machine
Sports equipment
Closets/clothes
Garage/storage
Vehicle repair/maintenance
Tools
Luggage
Pets

Computers

Software
Hardware
Connections
CD-ROM
Email/internet provider

Healthcare

Doctors
Dentists
Specialists

Hobbies

Books/records/tapes/disks

Errands

Hardware store
Drugstore
Market
Bank
Cleaner
Stationer

Community

Neighborhood
Schools
Local government

Civic issues
This trigger list retrieved from 43 folders, who took it from Getting Things Done.
Technique 4: Brain Dump
Spend 30-45 minutes with nothing but a pen and sheet of paper scribbling down everything you have going on in your life:
Obligations
Projects
To-dos
Future plans
Things that need to be remembered
Goals
Things that would be nice to have done, but you don't get to
Things you procrastinate
Even after you think you have everything, keep working on the list. Persistence is the key to making a comprehensive list.
This "brain dump" should provide a ton of things that your virtual assistant can help with.
Prioritizing
Now that you've compiled your list of tasks, it's time to take a deep breath and relax. It's intimidating, isn't it?
Don't worry, that's why you hired us! (You did hire us, right? If not, click here to get that off your to-do list.)
Review all the things you've come up with, and create a separate list of the tasks your virtual assistant can help with. It's important to think creatively. They may not be able to complete the entirety of every task on your list, but they may be able help in places – even if it's just to check in and hold you accountable for getting it done.
Once you've got a list of things your virtual assistant can take care of, look it over for tasks that will produce the most leverage. Generally speaking, delegating ongoing (recurring) tasks will have the greatest impact on your life – so delegate those first!
Again: 30 minutes a day adds up to over three weeks in a year. That's almost a month of time saved, during which you can do… Whatever you want!
Want to learn more?
[su_button url="https://longerdays.com/2018/01/01/take-a-tour-of-our-features/" target="blank" style="flat" background="#2F6690″ size="10″ center="yes" radius="6″]Take a tour of our features![/su_button]